Open Days     
The Museum Open Day and Train Rides program is shown on the MUSEUM page.
The Museum holds five open days during the year during which the exhibits "come alive".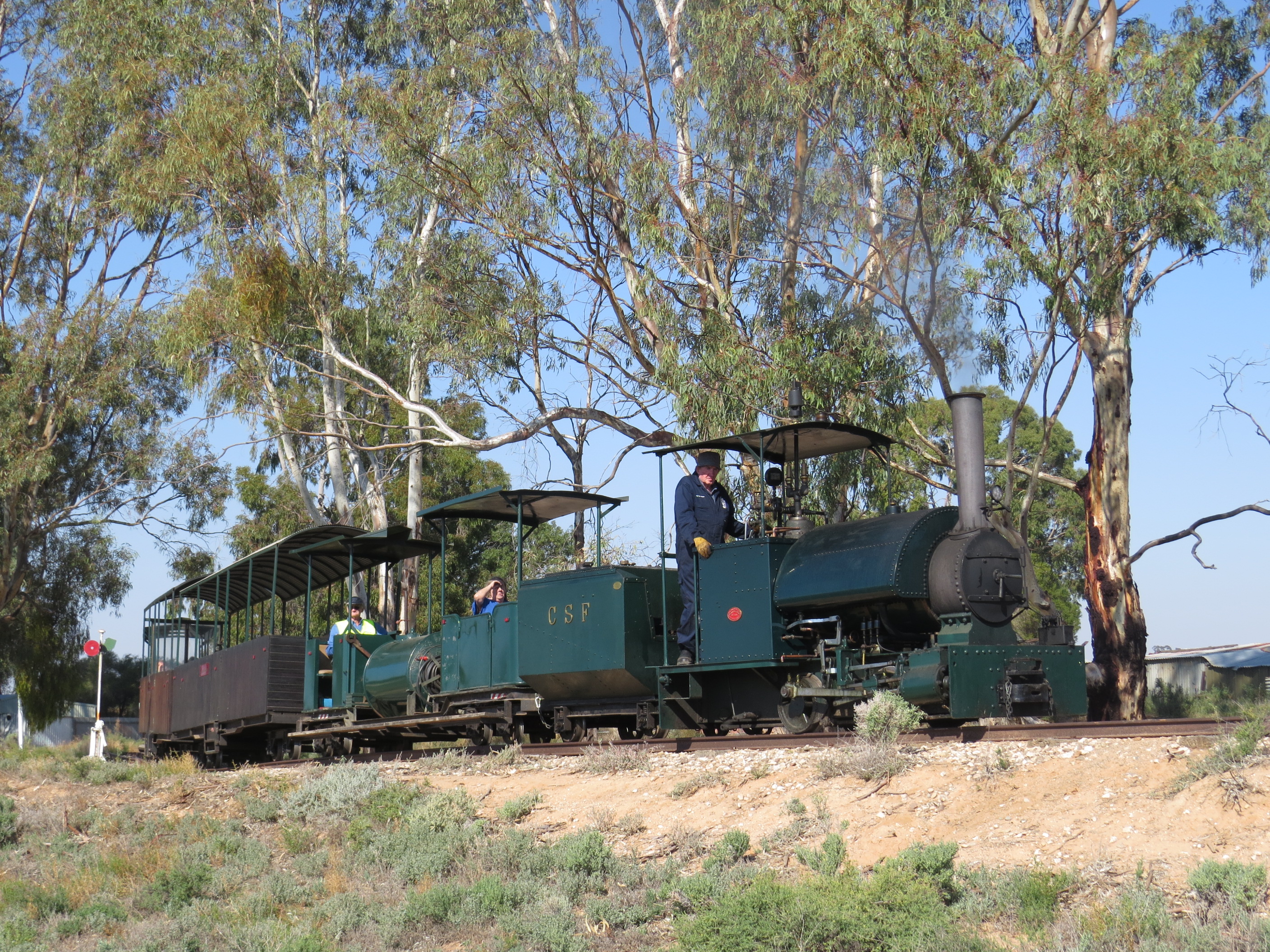 On the railway, the steam locomotive "Margaret" takes charge of the train while the diesel locos remain on standby. Take a trip through the museum, out along the Humphrey Pump channel bank, and through the vineyards towards Loveday. At Scotty's Loop the loco detaches from the train and goes on to the turntable where it is turned around for the return trip.
News     News     News     News     News     News     News     News     News     News

Steam Roller Restoration
See our Facebook page "Aveling & Porter Nº 12090 Steam Roller Restoration." for photos of the progress of the steam roller restoration. Most components apart from the boiler have now been grit blasted. The inside of the tender was a particularly difficult job, but the job was well done. A small amount of plate around the filler hole will need to be replaced, but otherwise it only needs a good anti rust coating. The power unit has been completed and returned to store at Loveday after being on display at the museum over Easter.
The boiler needs a need front tubeplate and the Society has launched a "Go Fund Me" crowd funding to assist with this. If you would like to support this project, please visit Go Fund Me for details.

Humphrey Pump
Work to get the Humphrey Pump operational again is nearing completion. A new and larger fan has been installed on the exhaust ducting and is being vented through the end wall. The gas bag steel frames have been replaced after a backfire during a test run blew holes in the old ones. New canvass covers for the gas bags have been installed. The backfire also caused a few window panes to fall out and shook a lots of rust flakes loose inside the gas belt in the head.  The team had to use both air pressure and vaccume cleaners to removed several wheel barrow loads of rust flakes from the gas belt, a difficult and time consuming job. All the head vales were overhauled.
Elsewhere, a comprehensive gas monitoring system has been installed, and the work platform for the gas bag area extended.
The gas bell outside has developed some rust holes near its base and these need to be repaired.
Bagnall Loco
The safety valves have been replaced and the pipework around the boiler has been reworked.
Fowler B6
Following the installation of new tubes, the crane has been refitted with a new cable and with cable stays replacing the old wrought iron ones.
The regulator valve shaft has also been replaced due to corrosion i the packing gland area and the valve faces have been lapped.

OTHER WEB PAGES YOU MAY LIKE TO VISIT
   Melbourne Steam Traction Engine Club   www.melbournesteam.com.au