Open Days     
The Museum Open Day and Train Rides program is shown on the MUSEUM page.
The Museum holds five open days during the year during which the exhibits "come alive".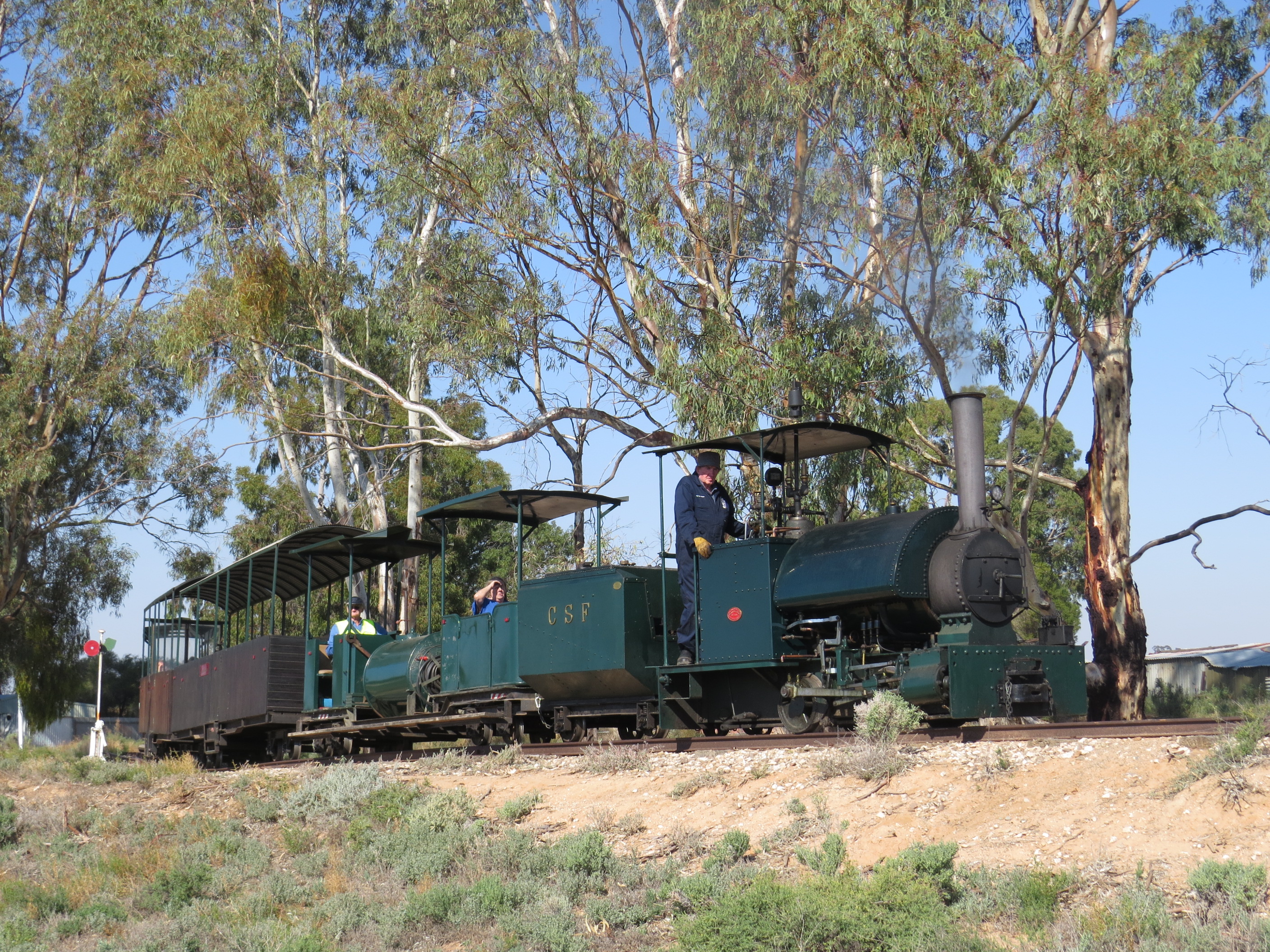 On the railway, the steam locomotive "Margaret" takes charge of the train while the diesel locos remain on standby. Take a trip through the museum, out along the Humphrey Pump channel bank, and through the vineyards towards Loveday. At Scotty's Loop the loco detaches from the train and goes on to the turntable where it is turned around for the return trip.
News     News     News     News     News     News     News     News     News     News

Steam Roller Restoration
See our Facebook page "Aveling & Porter Nº 12090 Steam Roller Restoration." for photos of the progress of the steam roller restoration.The boiler front tube plate has been removed and the boiler has had an internal acid clean. All the suspect rivets and stays have been removed and the fabrication of new stays is about to get underway.

Humphrey Pump
Several successful test runs have been completed and a safety review conducted by SA Water. The top section of one of the gas producers has been rebuilt and the top section of the other has been cleaned out. Both have been successfully tested. The building has been inspected by an engineer who gas made several recommendations for repairs and upgrades to the building.

Railway
The diesel locos are being put to good use hauling tour trains, twilight trains and with track maintenance. We have been replacing many dead sleepers, but have many more to go. The Bagnall steam loco is undergoing maintenance to the running gear. Currently, worn bearings in the wheel coupling rods are being replaced.

Fowler B6 and Fowler Z7
Both engines are currently in service and running well. On August 10th, 11th 2019, the Z7 will again travel to Benson Park for the Hit N Miss rally for its duty as the haul back machine for the tractor pull sled.
OTHER WEB PAGES YOU MAY LIKE TO VISIT
   Melbourne Steam Traction Engine Club   www.melbournesteam.com.au